Kanda bhaji recipe, onion pakora recipe with detailed photos: – Kanda bhajiya is widely famous as "Kanda Bhajji OR Kanda pakora" in  most of the places in india.Onion pakoda recipe or kanda bhaji is a deep fried onion fritters made with gram flour and spices.
In Mumbai, it is known as Kanda Bhaji. For those who doesn't know, kanda means onion and bhaji means fritters. So also known as onion fritters. pakoras are usually served with some fried salted green chilies and a green chutney or sweet chutney. this whole combo is also served with the indian Masala chai.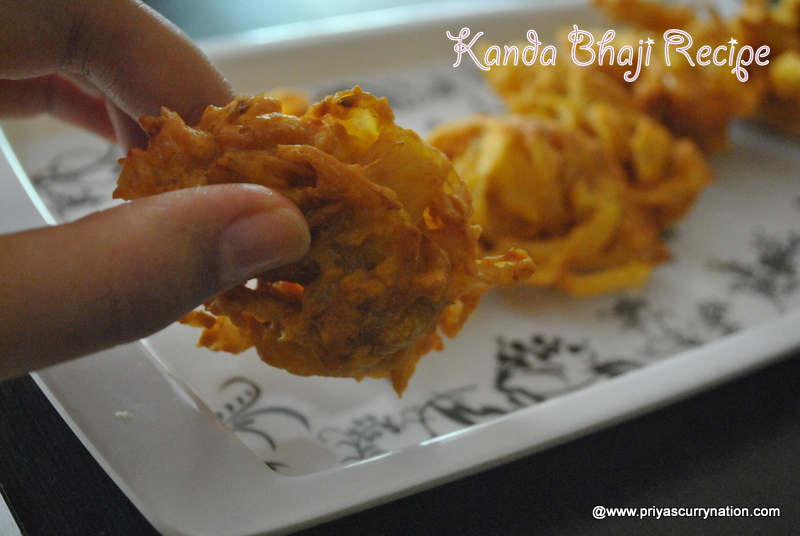 Monsoon is  started here in Pune and my celebration begins :). Curry Nation blog becomes my passion and I didn't notice that I have crossed 200+ score here. YES, i am writing my 216th post today.This means I have shared 215 different recipes .. uhhhhhhhh I enjoyed sharing and sharinggg so I didn't realize that I have crossed 2 milestones…:)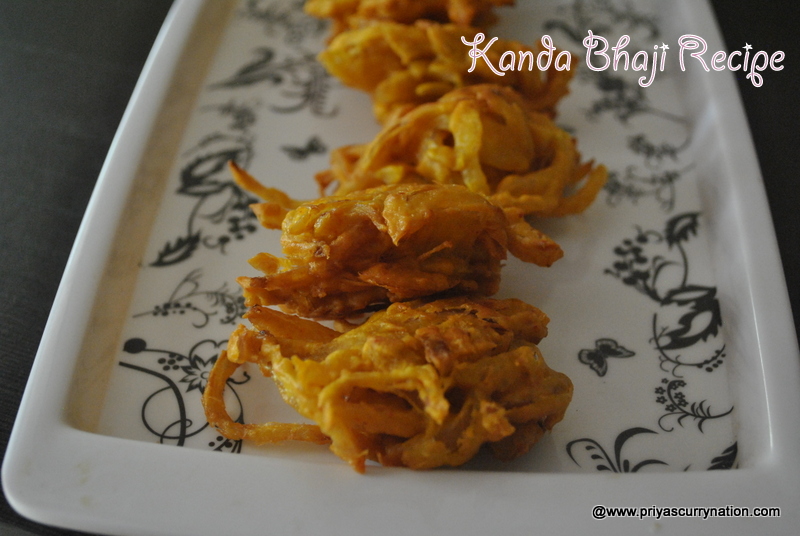 Coming to the recipe back,
the onion pakoras also taste good with Pav and can be sandwiched between pav just like Vada Pav and some chutneys(tomato chutney).
you can also bake the onion pakoras. I have never tried baking pakoras, but have seen some recipes. baked pakoras will taste differently than fried ones.
I have added some rice flour which also helps to make it crispy. I have added ajwain (carom seeds) to make it easy digestion. As pakoda are deep fried and sometimes besan can become heavy on stomach.
Recipe card for onion pakora below:-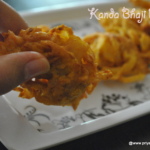 kanda bhajji recipe , how to make kanda bhajiya
crispy ,quick fritters recipe made with onion
Cuisine:
Indian, Maharashtra
Ingredients
1

large

onion

sliced

salt to taste

1/3

cup

gram flour /besan

1

tbsp

carom seeds / ajwain

1

tbsp

rice flour

a

pinch

of turmeric powder

2

tbsp

coriander leaves

a

pinch

of red chili powder

optional

1/4

tsp

baking soda

optional

oil

to fry pakoras

water

as per your need
Instructions
Add salt,carom seeds,turmeric powder,red chili powder in sliced onions and mix well.

Add 3 tbsp of gram flour first and mix well.

Add 1 tbsp Water and mix.

Chek the batter consistency, If it requires water then add it by spoon.If you like thick and fluffy pakora then add gram flour as well by spoon.

Heat oil in kadai /deep frying pan.

Using spoon or hands, gentely pour the batter.

Fry the pakoras until golden brown on medium low flame so that it cooks well.

Serve with chutney and hot tea.
Recipe Notes
The onions have to be sliced thinly and not thickly as thin slices will get cooked faster than thick slices. if the slices are thick, then while frying the chick pea flour or besan gets cooked but the onion slices remain half cooked.
Some don't like the taste and flavor of baking soda, So they can avoid it.I am using baking soda to get extra fluffiness in pakoras.
In the batter, you can also add 1 or 2 teaspoon of oil. this makes the onion pakoras crisp and it absorbs less oil while frying.
The temperature of the oil has to be correct while frying. the oil should not be too hot or cold. If it is hot, then the outside of the pakoras will get fried but the inside will be under cooked. if it is not hot, then the onion pakoras will absorb oil while frying and will be too oil-laden once fried.
Kanda bhaji recipe, onion pakora recipe | how to make Kanda bhaji with step by step photos:- 
Slice your onions thin. Check out tutorial here if you found any difficulties.

Add salt,carom seeds,turmeric powder,red chili powder in sliced onions and mix well.

Add rice flour and mix.

Add 3 tbsp of gram flour first and mix well.

Add 1 tbsp Water and mix.

Chek the batter consistency, If it requires water then add it by spoon.If you like thick and fluffy pakora then add gram flour as well by spoon.

Heat oil in kadai /deep frying pan.
Using spoon or hands, gentely pour the batter.

Fry the pakoras until golden brown on medium low flame so that it cooks well.

Serve with chutney and hot tea.

Notes:

The onions have to be sliced thinly and not thickly as thin slices will get cooked faster than thick slices. if the slices are thick, then while frying the chick pea flour or besan gets cooked but the onion slices remain half cooked.
Some don't like the taste and flavor of baking soda, So they can avoid it.I am using baking soda to get extra fluffiness in pakoras.
In the batter, you can also add 1 or 2 teaspoon of oil. this makes the onion pakoras crisp and it absorbs less oil while frying.
The temperature of the oil has to be correct while frying. the oil should not be too hot or cold. If it is hot, then the outside of the pakoras will get fried but the inside will be under cooked. if it is not hot, then the onion pakoras will absorb oil while frying and will be too oil-laden once fried.

 Equipment Needs for this recipe