It is always better to start your own blog. Actually, I wanted to share this post for so long. I originally planned to share this post back in 2017 but you guys already know about my migration and all. There were a lot of ups and down in 2017 but I am here and I am finally sharing the improvised steps to start a food blog.🤩
SOooooooo,Put things on hold for the next 15 minutes and follow these steps below. You'll be up and running with your own food blog before you know it :).
What are you waiting for? share this now with your friends
Click To Tweet
how do we start?
there are many blogging platforms you can use to start your own blog. but two of the most commonly suggested blogging platforms are blogger.com and self-hosted wordpress blog.
Well if you guys are new here then you might don't know that priyascurrynation was started on the blogger platform as a food-n-moreblog.blogspot.in . blogger.com is powered by google servers and software. I migrated my blog to wordpress in early 2017. One of the main reason to migrate my blog is the lake of functionalities blogger is offering. you can read pros and cons of wordpress and blogger for more details here.
So, how to start with wordpress?
To start your food blog, the first three things you're going to need are:
A domain name and hosting
install WordPress on your domain
A perfect theme
here is a detailed steps.
1. domain name and hosting:
choosing a domain name is a fun part. if you have any specific name that sounds interesting to you then go for it. make sure that you are pretty much clear on your domain name. when I started a blog with no clue, I choose food-n-moreblog.blogspot.com and then I feel that the name was chosen by me is wrong.I was a bit blessed that I later decided to buy my own domain priyascurrynation.com
But you guys please avoid the mistake as I did in past. BE CLEAR and BE CONFIDENT about your domain. because changing domain names may ruin your traffic and audience's trust.
Hosting:
once you decide your domain name, You'll also need to host your domain name. Hosting is like renting space on the web to display your blog. its time to choose a hosting. there are a lot of hosting providers with pretty good deals. you will find a lot of resources for that. priyascurrynation.com is currently hosted on Bluehost. Bluehost has their website especially for Indian users which is- "bluehost.in". But I purchased my packages from bluehost.com.
Bluehost has great rates and gives you your domain name for free if you decide to host with them and Bluehost is one of the finest hosting providers and suggested by wordpress itself.
so, choose a plan according to your requirement.,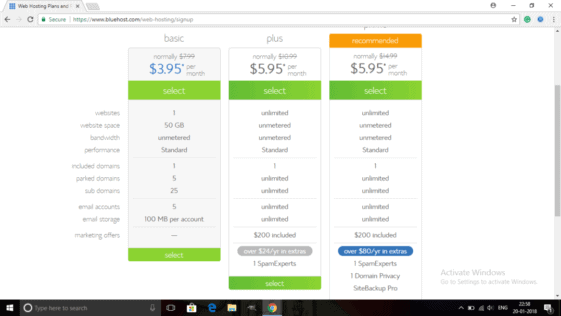 Below is a screenshot of what I use for package information settings. The Domain Whois Privacy shields your personal address and phone number from being displayed to the public.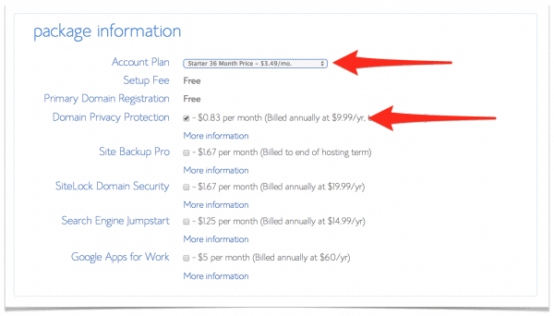 2.installing the wordpress software:
once, you completed the purchasing process, you need to login to Bluehost find the Website Builders section. Click on the WordPress logo.

next, click on the install button,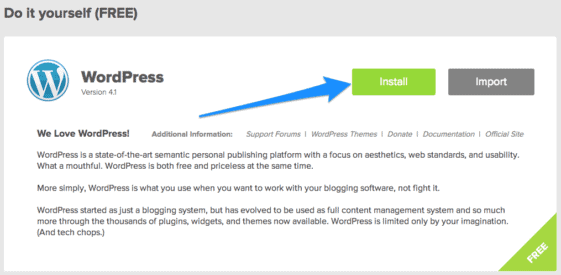 Click the "Check Domain" button.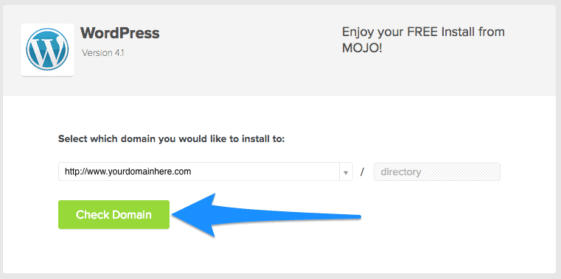 Check the terms and conditions box and then click the "Install Now" button.
Once you get the message that says "Your install is complete!" you'll want to click on the "View Credentials" button and write down your Admin URL, Username, and Password. You can change these to something more memorable later, but you'll need them for your first time logging in.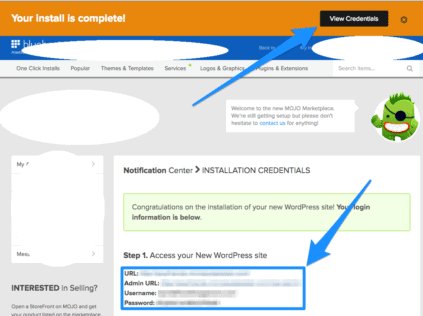 Type your Admin URL into your web browser. You'll see a login screen like the one below. Enter your Username and Password you copied down from the previous step.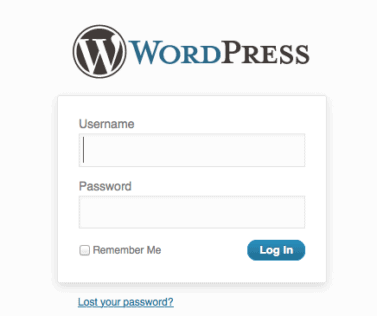 3.A perfect theme:
After installing the wordpress on your domain, you are almost set to write your first post. but before that, you need to decide the look of the blog. WordPress has tons of free WordPress themes to pick from. You can go through the options here. If you're looking for a premium theme, check out these options:
The Thesis Theme – famous among most of the bloggers
The Genesis Framework – One another good option.
wpzoom – well, I know no one can beat the Genesis framework but for the initial stage, you can choose themes without frameworks. there are various light weight themes. Currently, priyascurrynation.com is running the theme by wpzoom.
once the theme is installed and customized, you are all set to publish your first post.
Common questions:
1. is blogger.com really a bad platform for blogging.
no. blogger is a good blogging platform and in some cases, it could be the ideal blogging platform too. but self-hosted wordpress is one of the best blogging platforms.
2. can i move my blog from blogger.com to self hosted wordpress blog later on.
yes, that is possible and i recommend this migration guide to do so. best part of this migration method is that you don't lose any SEO juice.
3. how to get traffic to my food blog?
nowadays making a blog is quite easy as compared to the situation 5 years ago. the real challenge is not in starting a blog but in getting traffic to your blog.
choose a topic for blogging on which you are passionate about and you have enough knowledge.
decide your blogging niche and stay focused on it.
write quality content on your niche. in the world of internet "good content is king." good content will bring facebook shares, tweets and google plus to your profiles thus bringing more blog traffic and can also lead to more traffic from google search results.
good photography will help.
good blog design. keep the blog neat and not cluttered. navigation of the blog should be easier so that visitors can easily find your most important posts. keep the search box in a visible location.
food bloggers can submit their photos in these food photos submission sites to bring some more traffic. e.g. tastespotting.com and foodgawker.com.
stay focused and keep on building good content.
Disclaimer: The links in this post are my affiliate links