This post is submited by Guest Blogger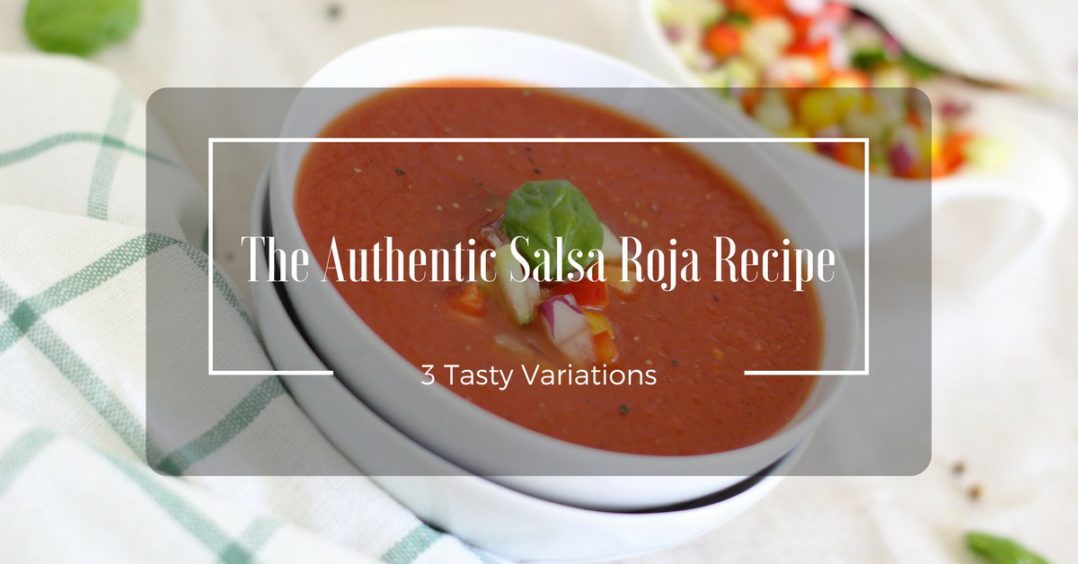 Are you a lover of authentic Mexican food like me? Are you always craving for their fantastic salsas that give off a summery feeling with every bite? It's hard to describe what I mean by "summery, " but the taste of Mexican salsa makes me feel warm. I'm addicted to it! I put it on beef, chicken, chips, and almost everything. I even set a barbecue party in my backyard sometimes just to brag my homemade authentic salsa roja recipeto my neighbors. I'm such a show-off!

Salsas are staple sauces to almost every Mexican food. Its signature taste is loved by foodies around the globe. Fresh tomatoes, cilantro, and spices are the common ingredients of salsa roja. But there are many variations in making this salsa because people prefer to make their own blends.
As for me, I also add different ingredients now and then to alter the taste to complement the food I'll serve with it. Always bear in mind to use fresh ingredients to fully bring out the taste. Also, you should try making the recipe on your own because it takes less effort and it's very fulfilling to eat the fruit of your labor. Lastly, feel free to add or remove specific ingredients – just make the recipe of your own!
Below are some home-made recipes of mine.
Basic Salsa Roja Recipe
The basic salsa roja recipe is made of common ingredients such as tomatoes, cilantro sprigs, onions, and spices. It tastes mild – no hotness or whatsoever. Ideal for people who just crave for sour and thick sauces to go with their meat.
What you'll need:
8 ripe plum tomatoes,10 cilantro sprigs,2 cloves garlic,1 tsp salt,1 tsp pepper,5 cups water,1 whole white onion,2 tbsp olive oil,3 serrano chilles,
Serving Size:Makes 3 cups
Procedure:
1.Slice the vegetables – cut onion and tomatoes in quarters, and slice garlic cloves thinly. Also, remove the stems off chillis.
Photo from mexicanfoodjournal.com
2.Mix the ingredients in a pot except for the cilantro, salt, and pepper. Add 5 cups of water and bring to a boil. Cover the pot with the lid and simmer for 30 minutes.
3.After 30 minutes, add the cilantro to the boiling pot. Mix and blend the mixture until it thickens into a salsa.
Photo from onceamonthmeals.com
4.In another pot, heat 2 tbsp olive oil over medium heat for a minute. Pour the blended salsa into the pot with the oil and simmer over low heat for 30 minutes.
5.Sprinkle salt and pepper into the salsa to taste. You may add another tbsp. of both seasonings according to your taste preference.
6.Transfer cooked salsa in a container. Cool it down before capping the container. Refrigerate well.
Photo from mexicanfoodjournal.com
Voila! Making a basic salsa roja is a no-sweat activity. It's very easy to prepare and it tastes great too. Perfect for meats and chips. Tip: To hasten the entire process, use sharp knives and a Fagor pressure cooker.Enjoy!
Taqueria Style Salsa Roja Recipe
The taqueria style salsa roja recipe is a great dip for tacos and chips. Dried arbol peppers make all the difference in a taqueria style salsa roja. It's spicy and delightful. A tasty salsa gives life to plain, crunchy tacos, right?
What you'll need:
•    2 large ripe tomatoes
•    6 medium sized green tomatoes
•    3 garlic cloves
•    1 large white onion
•    17 arbol peppers (dried)
•    1 tbsp salt
•    1 tbsp pepper
If you want your salsa to have a strong red color, add more large ripe tomatoes more than the green ones. Also, the spiciness of the salsa depends on the number of arbol peppers. Adjust the spiciness level by adding or removing peppers.
Serving Size: Makes 3 cups
Procedure:
Step 1. Slice onion and garlic cloves in quarters.
Slice into quarters. Photo from agroweb.com
Step 2.  Put the sliced onion and garlic together with all the tomatoes in a skillet. Distribute the pieces evenly throughout the skillet, making sure each one will be heated. Roast in the skillet without putting oil for 10 minutes. The ingredients will naturally show signs of blistering. Mix and flip the pieces every few minutes to avoid burning.
Photo from mexicoinmykitchen.com
Step 3. Check if the tomatoes have softened from time to time. If they are, remove them from the skillet and place them in a blender or food processor together with the roasted garlic and onion. Blend well, leave no chunks unblended.
Photo from lowcarbhighfatrecipes.com
Step 4. Roast the arbol peppers in the same skillet. Peppers' skin burns easily so watch the roasting process carefully. Turn and toss the peppers from time to time.
Photo from thespruce.com
Step 5. After roasting the peppers, add them to the blender and blend again until smooth.
Step 6. Transfer salsa into a container. Add salt and pepper accordingly.
Photo from mexicoinmykitchen.com
Making a taqueria style salsa roja is as easy as 1, 2,3. This recipe is for spicy lovers!
The Ultimate Salsa Roja Recipe
If you want a kick of strong herbs, spices, and tanginess in your salsa roja, you better try this recipe. This recipe makes use of a lot of ingredients especially chiles and herbs.
What you'll need:
•    8 ripe plum tomatoes
•    3 cilantro sprigs
•    1 large white onion
•    2 cloves garlic
•    ¼  cup lemon juice
•    2 ancho chile (dried)
•    1 anaheim chile (dried)
•    1 tbsp oregano
•    ½ tbsp. sugar
•    2 tbsp. olive oil
•    1 tbsp. cumin
•    1 tbsp coriander seeds
Serving size: makes 3 cups
Procedure:
Step 1. Slice chiles, onion, garlic, and tomatoes into quarters. Toss them in a skillet and distribute evenly. Toast for 8 to 10 minutes while occasionally flipping until fragrant. Add 1 cup water and simmer for 10-15 minutes.
Photo from pettitakett.com
Step 2. Transfer the mixture to a pot. Add olive oil and another 2 cups of water. Sprinkle salt, pepper, cilantro sprigs, cumin, coriander seeds, oregano, and lemon juice. Mix and boil for 10 minutes or so until salsa thickens.
Step 3. Place the salsa into a blender or food processor. Add sugar and puree the mixture until smooth.
Photo from lemonthyme.com
Step 4. Lastly, put the well-pureed mixture into a container. Serve together with your dish and freeze.
Conclusion
Making your own salsa roja is truly satisfying. It won't take much of you time nor turn your kitchen into a mess of all sorts. It's a perfect dip for any food too! You can enjoy it while munching on nachos and watching TV, it's a delightful sauce for roasted chicken or beef, and it'll be a great salad dressing too. Your homemade salsa roja recipe will surely make your next dinner party a hit and leave people craving for more!
Hey there! Have you ever made salsa roja? How did you do it? What's your special ingredient or what did you do differently? Feel free to comment your thoughts below. Cheers!
Author bio:
Maria Hayes
I am a 27 yr. old self-proclaimed food enthusiast with a penchant for cooking (and eating) virtually all forms and shapes of food. My inner foodie led to the creation of Mamatestataqueria.com . This blog chronicles my food adventures, original recipes, and reviews of awesome cookwares and similar products. I aim to provide answers to food-related questions and inspire readers to channel their inner chefs.
This post may contain affiliate links, which allow me to make a small commission for my referral, at no additional cost to you. Thank you for supporting curry nation.
Facebook | Pinterest | Twitter | Instagram | youtube