This post is submitted by Rohit Agarwal blogger at http://www.transindiatravels.com/
The word 'chat' brings to mind the spicy and tangy flavors of gol gappas and dahi-puris, and there is nothing that can compete with this taste. Indian chats incorporate a variety of spices and aromas that can make your mouth water and your taste buds tingle. And more so if you are in Hyderabad! In this city, famous for the Hyderabadi biriyani, delicious flavors of chats stand out too. One of the best places to get a plate of your favorite chat in the city is definitely the famous Gokul Chat situated in the Koti area of the city. If you planning to visit Hyderabad anytime soon, make a note of this list of the five foods you must try at Gokul Chat:
 Pani-puri
Crispy round Pani puris are a must have at this place. You are bound to love the tangy and spicy taste of these puris filled with potatoes and dipped in sweet and sour chutneys.
2.Samosa
Who isn't aware of the famous Indian samosa? This dish has made rounds all over the world and is still popular all over the country. Gokul Chat serves you with the best possible version of this tea time snack. To know more about tourist places in and around Hyderabad, check: http://www.transindiatravels.com/telangana/hyderabad/tourist-places-to-visit-in-hyderabad
3.Mirchi Bajji
Set your taste buds on fire with the spicy Mirchi bajji. Though it is spicy, you will be wanting more even before you finish your first bajji! The chili and potato stuffing are delicious, to say the least. There are so many things to do in Hyderabad, other that eating street food, to know more: http://www.transindiatravels.com/telangana/hyderabad/things-to-do-in-hyderabad/
4.Dahi Papdi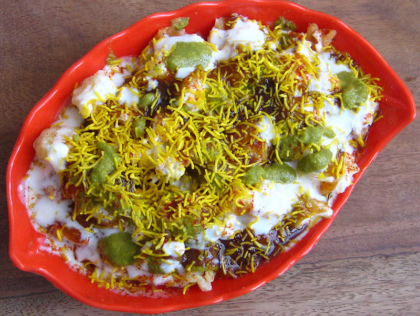 Dahi Papdi Chat is a cold chat served with curd. The papdis are covered with cold yogurt and served with chat masala and other condiments that make it a lip smacking delight.
5.Pav Bhaji
Mumbai's famous street food, Pav Bhaji, finds a rightful place in the menu at Gokul Chat. The bread roll or pav is hot and delicious, and the vegetable bhaji has a nice helping of butter which makes it mouthwatering. Hyderabad is also famous for its weekend getaways.
Now that you know what to eat here, go ahead and start gobbling up some of it! Gokul Chat has been around for a long time now and provides an extremely enjoyable experience when visiting with your family and friends.
This post may contain affiliate links, which allow me to make a small commission for my referral, at no additional cost to you. Thank you for supporting curry nation.
Facebook | Pinterest | Twitter | Instagram | youtube